Family Mediation Council registered mediators are trained to the same high standards and follow the same Code of Practice, but come from a range of backgrounds and professions. As part of Family Mediation Week 2022 we are introducing you to a few mediators who describe how they came in to mediation and their experience of the role.
Hassan Roushandel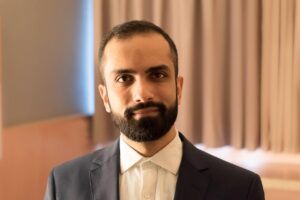 My name is Hassan Roushandel and I am currently a family mediator at my private practice, Sukoon Mediation. I did my training during the lockdown in early 2021 with the Family Mediators Association (FMA). I am also a member of the Equality, Diversity and Inclusion Team at the Family Mediation Council (FMC), a team dedicated to actively encouraging diversity in family mediation, and to identify and remove barriers to people from those groups who are under-represented from becoming mediators. Alongside mediation, for several years I have been lecturing at the Islamic College, an Institute offering graduate and undergraduate degrees in partnership with Middlesex University.
Unlike many of my mediator colleagues, I don't come from a legal background. Prior to becoming a mediator, I did my Masters in Legal and Political Theory, which is considered a philosophy degree. At first, I felt overwhelmed by the level of legal and financial literacy required to meet the standards. I raised my concern with my supervisor and she reassured me that mediators come from a variety of backgrounds and they pick up the skills gradually and through experience.
Mediation is not only a rewarding job, but it is also quite enjoyable. What I particularly enjoy about mediation is the opportunity it provides people to look for solutions for their own disputes. Clients are encouraged to think practically and to see things with an objective point of view. As a mediator, I help them embark on this worthwhile journey by actively listening to each individual and guide the conversations to eventually arrive at their desired solutions. Mediation is fascinating because it respects the fact that decision- making lies in the hands of the clients and they determine their own destiny.