Family Mediation Council registered mediators are trained to the same high standards and follow the same Code of Practice, but come from a range of backgrounds and professions. As part of Family Mediation Week 2022 we are introducing you to a few mediators who describe how they came in to mediation and their experience of the role.
Ryan Compton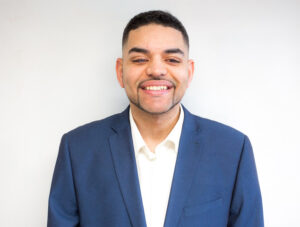 I am a family mediator, accredited to undertake child arrangements and financial cases. I am also a qualified civil-commercial mediator, and my background prior to mediating was in mentoring and coaching. I feel that all of these fields are similar as they are solutions-focused. Coaching has given me the essential foundations for mediation and has been instrumental in my mediation success. I have always seen myself as a natural communicator, E.G. active listening skills.
I would say mediation is challenging at times, but this is fine with me as I do like a challenge. Providing clients with a safe space and watching them work past their differences, ultimately finding a solution that works for them, is something that I find very rewarding.
From the moment I trained, I immersed myself in the mediation world and was quickly recognised as community mediator of the year in 2018-2019. I now sit on the board of directors and co-chair the College of Mediators. I have run my own mediation company since 2016 – Access Mediation Services.
When I was in college, I delivered a talk on young enterprise (A scheme which helps young people develop business skills). A gentleman from the audience approached me afterwards and said that I should go into mediation. I never paid any attention to what he said, nor did I know or understand what mediation was, at the age of 23. A few years later, I did come back to this and researched what mediation was, which is where I found my first mediation training course.
I am registered blind, and some may find it unusual that there is a blind mediator. Being disabled has provided me with many hurdles, and I have equipped myself with the skills to overcome them. It has also given me the ability to empathise with others naturally. I find that these skills really support me within my mediations.
For more information about myself or my company, please visit accessmediationservices.co.uk.